Hometown 4th Festival
ATTENTION: The Hometown 4th Parade has been moved to the 5th at noon.
Join in with the music, food, and fun on Friday, July 4th and, Saturday, July 5th!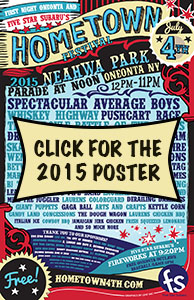 DANCE
ARTS & CRAFTS
CHILDREN'S ACTIVITY AREA
BBQ & DELICIOUS FOOD
FARMER'S MARKET
ADRENALIN ZONE LASER TAG
BOUNCE HOUSES
REMINISCERS CLASSIC CAR CLUB
MIKE THE JUGGLER
COSMIC KARMA FIRE
DERAILING DARLINGS
ONEONTA TAEKWONDO DEMOS
GIANT PUPPETS
GAGA BALL
FACE PAINTING
BLENDO'S BASKETBALL GAMES
& DUNKING COMPETITIONS
COMMUNITY VOLLEYBALL & KICKBALL
HULA HOOPING DEMOS
COLORSCAPE BUS
& MORE!